Happy Spring Everyone,
It's April in the Praries and the snow are melting. Lately we have Inspire Awards in the city. It was amazing I was able to get a call to do stagehand and see what are the Indigenous  First Nations are up to in the Arts. So nice to see Tanto Cardinal again. The set was amazing. It's all advance technology.
At the moment Manitoba Opera is on presenting La Traviata by Giuseppe Verde composer & Francesco Maria Piave Librettist again it is set in the 1920's Paris France. Lots of Flapper Dresses and Ostrich feathers complimented with Swallow tails and Top Hats. Erte the famous designer comes to mind.
In September last year I got a phone call when I was in Vancouver from Kayla Gordon who basically founded Winnipeg Studio Theatre. I work with Winnipeg Studio Theatre when it was still building the organization.  We did Altar Boys for the Winnipeg Fringe Feastival and raise funds to be able to produce other productions.  On May 24 to the 27 we are presenting School of Rock at the Tom Hendry Warehouse. 140 Rupert Avenue.  Get your tickets to support local young artist and to sustain our culture in Winnipeg.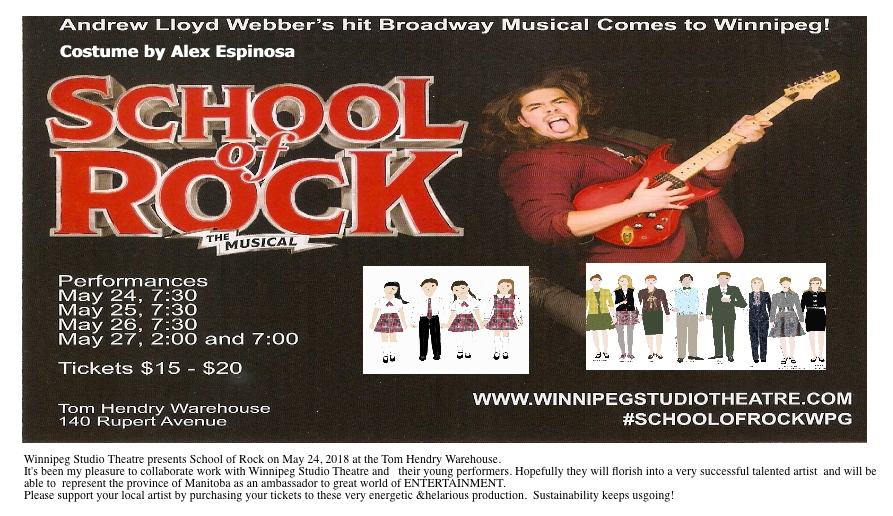 Well that is it for now I do hope you will enjoy your spring and all the blessings that goes with it.